After adding an ACH account, Acadeum will make two small deposits into your account to verify that the settings are correct. Your ACH settings will be marked as Pending until you verify these deposits with us.

Once you receive those small deposits, you will need to:
Return to Acadeum Admin
Access Settings → Financial
Access the link to confirm deposits.
Enter the two deposit amounts
Verify
If you successfully verify your deposits, your account will be marked Active and Acadeum will begin using this as your primary method of payment.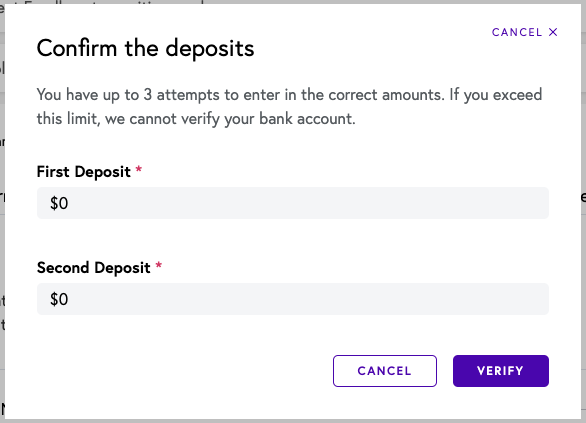 Please note that you will only have three attempts to confirm the deposits before that payment method is deactivated. If this occurs, you will need to remove the payment method and add a new payment method.
ACH ID Authorization
Since Acadeum initiates debits automatically by ACH, you must have your bank authorize Stripe for ACH transactions (debits and credits) for the connected bank account. So, when adding a new bank account you will also need to authorize Stripe's ACH IDs.