The Advisor Recommendations* feature allows schools to directly recommend specific courses to students making it easier for them to register for the course that they need. This feature is intended to make the communication between a student and advisor regarding the courses they should or have been enrolled in by their institution easier.
Only users with the Administrator and Enrolling Student Administrator roles can use this feature. [Learn more about roles and permissions here.]
Additionally, this feature is only available for schools who have enabled the Acadeum Student Application.
Video Overview
Watch the video below for a demonstration of the Advisor Recommendations feature of the Acadeum Course Share Administrator Application.
To use this feature:
From within the page, search for a course to recommend to a student.
Once the course is found, click .

If the selected course has not already been mapped** and approved, the button will appear just below the course title.



a. Click to select approved terms and map the course to your institution's equivalent course.


b. Add the required course mapping information and click when complete.


Just below the course title, click .

The recommended course must be mapped to one course substitute from your institution. Select a course from the Course Substitute drop down.
OR
Select Other and enter the Course Code and Course Title.
Click .
Click .

Select the student/s for whom you are recommending this course.
You can also add students by selecting .
Click .

In the Notes field, let your student(s) know why they are receiving this Advisor Recommendation and of any necessary instructions to successfully enroll in the course.
Click . This will trigger an email notification to the student/s alerting them of the recommendation and prompting action to enroll via the Acadeum Course Share Student app.

This is now visible on the Advisor Recommendations page where the Enrolling Administrator will review and approve/deny the student's registration request.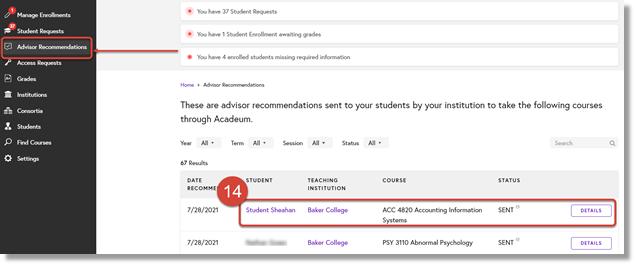 * NOTE! This feature works directly with, and is only visible where, schools have opted to use the Acadeum Course Share Student App. If you are unsure about your school's use of the Acadeum Course Share Student App, contact your Acadeum Account Representative.
** At least one equivalent course is required.