NEW! A new horizontal card structure makes navigating and accessing Institution information easier.
Hundreds of institutions are leveraging the power of course sharing through the Acadeum Course Sharing platform. The complete list of Acadeum network partner schools are visible from the Institutions page including additional information about each as well course offered, where applicable.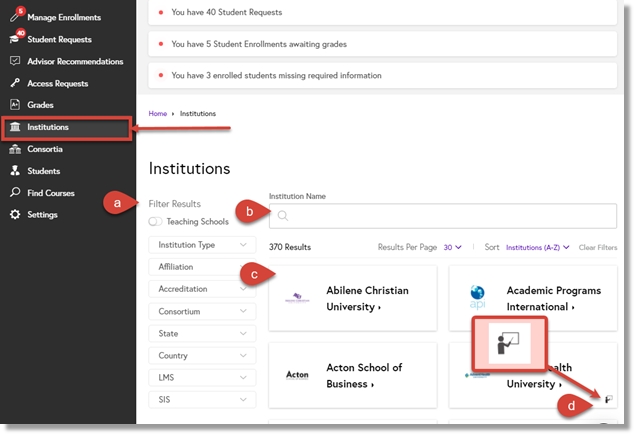 a. Filter Results: Use the filter options to search for institutions using one or more sets of criteria.
Teaching Schools - toggle to only view teaching institutions
Institution Type - filter for institutions based on selected sector/s (private, public, for-profit, not-for-profit, etc.)
Affiliation - filter to view courses offered by institutions that are affiliated with certain organizations. Affiliations may be religious, gender-based, systems, etc.
Accreditation - filter to view courses from institutions with specific institutional or programmatic accreditations
Consortium – filter institutions that are members of selected consortia (Note: schools can be members of multiple consortia.]
State – filter to view institutions in selected states
Country – filter to view institutions in selected countries
LMS – filter for institutions using selected learning management systems (LMS)
SIS – filter for institutions using selected student information systems (SIS)
b. Institution Name search:

provides a list of institutions where the key word is found in the institution title
c. Institution card: click to view additional information about each institution
d. Teaching Institution indicator: indicates Acadeum network partners who serve as Teaching Institutions